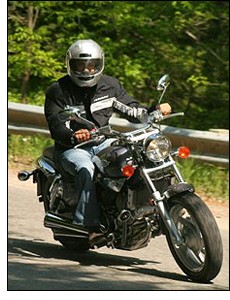 For more information, please visit the Kymco website.

Liquid cooled V-Twin engine, alloy wheels, chrome detailing, low stance, flowing lines, and large disk brakes - does it sounds like we're describing a large c.c. cruiser? The Venox 250 (yes, 250) boasts all of these qualities and more. This classically styled cruiser weighs only 190 kg and has been designed exclusively for beginner riders. It has a mature look that's got all motorcycle enthusiasts coming back for a closer look.

With top speeds of 130km/hr and a 14 litre fuel tank, the Venox can take you anywhere you want to go, in style! EPA certified, very fuel efficient, and of the highest quality, this gorgeous bike has much more to offer than just its good looks. The sound is great, the ride is smooth, and the price is unbeatable!

Whether you're a beginner or a seasoned rider, the Venox 250 has something to offer everyone.
Available colours for the Venox:

Black / Midnight Blue
Silver / Grey
Ruby Red

Top speed: 130 km/hr
Liquid cooled engine
EPA certified
4 CAM, V-Twin
5 speed manual transmission
front disk brake & rear drum brake gives rider more controlled stops at higher speeds
Alloy Wheels
Chrome detailing
Low stance, light weight & comfortable
Bright headlight featuring both high & low beams
Wireless helmet brake lights available for added safety
2 year limited warranty
14 litre fuel capacity
Sold Out